Jewelry is always been the most important accessory of women. Women of all ages love wearing jewelry. From the ancient times it was very popular accessories and used to play a very important role in several occasions especially in wedding ceremonies. Jewelery was used to be sold, purchased and exchanged center round this ceremony. At that time gold jewelry was the most popular but today there are several other types which are also very popular among the women. Cosmetic or junk jewelery has an increase in demand. Bead jewelry is also gaining popularity. With women, lately man is also becoming equally interested in jewery. Today's young men use to wear bracelets, necklaces earrings and various other jewelries.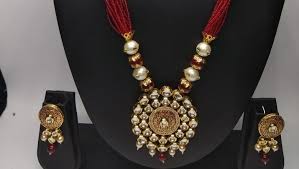 Costume Jewelry
Lately costume jewelry is becoming very popular among the new generation ladies. This is also named as junk jewelry or fashion jewelry and this kind of jewelry started gaining popularity in early twenty's. Junk jewelries go well with fashionable outfits and have worldwide demand. This type of jewelry is made with inexpensive materials including glass, wood, plastics and thus easy affordable. They can be worn in anytime anywhere whether is in office or a get together and it always complements your look. Recently many renowned companies have come up with various costume or fashion jewelleries.
Antique Jewelry
Lately collecting antique jewelry becomes a fashion to the people. Antique jewelry including vintage and estate jewelries are available in most of the jewelry shops in USA. This kind of jewelry are generally highly expensive; however collecting these worthy items are always been an experience as they remember us of our ancient history and culture. You can also go for online shopping for these antiques.
Bead Jewelry
Bead Jewelry is increasing in popularity; they can give a touch of style and glamour to your look. Bead jewelry can be worn both with traditional and modern dresses. Beads are generally made with plastic and glass and stone. Sometimes it is also made with metals, stones, coral, wood, pearl, ceramic and paper. Various sizes of bead are seen in the jewelry and women love wearing beaded necklaces, bracelets and earrings.
Diamond Jewelry
Diamond Jewelry is all time favorite accessories of women. These elegant accessories give you a glamorous look they can be worn in every occasion. Lately many renowned diamond jewelry companies come up with latest designes in diamond jewelries and they offer so many slick designs which you can easily wear in offices or formal get together. Previously diamonds are embedded only in gold but these days they are becoming popular with platinum also. At present D ' damas and De Beers are the most popular all across the world.
Men's Jewelry
The popular men's jewelry includes cufflinks, rings and bracelets. They also like to wear different types of necklaces. Various companies come up with many designer jewelry for men. Lately gold cufflinks embedded with gems, platinum jewelries are the most popular among the men.
Jewelry designing courses
A number of people all over the world want to pursue their career in jewelry business. Some want to make career as a jewelry designer. Lately a number of colleges are offering various courses in Jewelry designing. Some of the most popular institutes are as follows:
California Institute of Jewelry Training, USA

Miami Jewelry Institute Inc,lUSA

Minneapolis Community & Technical College, USA