Silver jewelry is one of the popular and common type of jewelry. In the world of metal jewelry the value of silver stands next to gold. Thus, compared to gold jewelry silver jewelry is less expensive. Many women like silver jewelry because of its unique shine and amazing texture. The silver metal allows the user to wear jewelry both for formal and informal occasion and looks gorgeous. It is always advised that jewelry should be picked according to the skin tone. If you have fair complexion, silver jewelry will look wonderful on you. This is because the color and tone of gold jewelery sometimes fails to highlight the look if you have fair complexion. Silver jewelry matches well with almost all the outfits.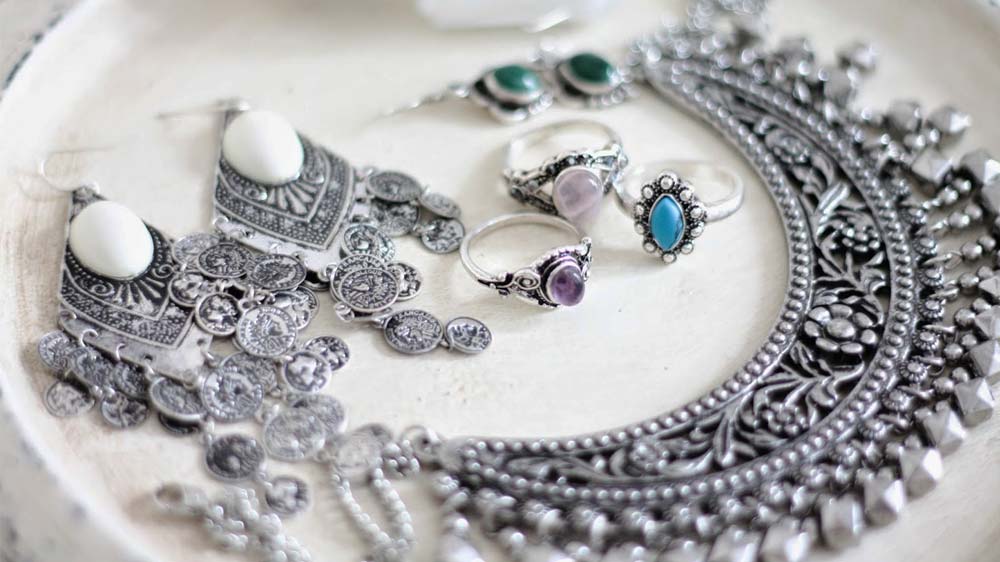 Types of silver used in silver jewelry
Considered as one of the finest metal of earth, there are different kinds of silver used in making jewelry. The purest form of silver also known as fine silver consist of nearly 99.99% of silver that means 999/1000 is the ratio. But, unlike gold pure silver is unfit for making jewelry as it tends to be very soft. Thus, other metals are mixed to make alloys to provide better durability and longevity of silver jewelry. The most common type of silver alloy used in making jewelry is Sterling Silver. The percentage of combination of different kind of metals in sterling silver is 92% silver and 7% copper.
The mixture of these two metals results in alloy with enough durability for daily use and simultaneously helps in maintaining the shine and radiance of the jewelry. Sometimes, rhodium is mixed with silver to give perfect finish. Apart from sterling sliver, you can find other silver jeweleries mixed with different kinds of metals. You can also opt for silver plated jeweleries. But these kind of jewelry is not good if you are thinking in terms of investing for long term. These kind of jewelry has the tendency to wear off very easily after a certain period of time. This aspect is also same in terms of nickel silver jewelry. Though it is called silver, the jeweleries are made from the combination of different other metals.
Silver Jewelery Caring Tips
Jewelery is something that comes in contact with skin directly. Thus, sweat, dirt and dust gets accumulated on them and causes them to lose their shine. As silver jewelry has the tendency to tarnish easily, it is important to take proper care of the same. Here are some tips to care your silver jewelry.
Cleaning: Before putting the sliver jewelry on box, make sure that you have cleaned them properly. Use a fine cotton cloth in cleaning. Just rub the jewelry and store them properly in jewelry box. You can also soak them in warm water and dry off with clean cloth.
Storage: Keep your silver jewelry in anti-tarnish jewelry box. This will prevent the jewelry from getting any kind of scratches and marks.
Polishing: If you wear the silver jewelry on daily basis make sure that you polish it at least once a year from any jewelry shop. This will make sure that the shine and radiance remains intact for longer period of time.