The name "Seiko" stands for innovation and cutting edge technology. It is through this innovative technology that Seiko Watch Corporation gave Japan; its first wristwatch and revolutionized the concept of wristwatches all over the world. The advanced technology of a Seiko watch was promoted by Sean Connery and Roger Moore in Bond movies. Even Jason.Bourne wore a Seiko chronograph in the book, The Bourne Identity.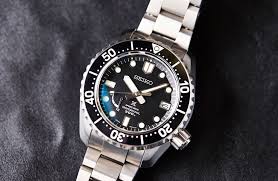 About Seiko Watches – origin and company profile
The name Seiko in Japanese stands for exquisite, minute, or success, all of which, are applicable to the company. The origin of Seiko can be traced way back to the year, when Kintaro Hattori started a watch and jewelry shop in the Ginza area of Tokyo, Japan. From  onwards, he started making clocks by the name Seikosha. In, the company was incorporated under the name K. Hattori & Company Limited. However, Seiko as a brand was born in the year when the company produced its first watch. Later, in, Seiko came up with "Seiko Astron", which was the first quartz watch in the world that was soon followed by the quartz chronograph. In July, Seiko Watch Corporation separated from the watch business division of Seiko Holdings Corporation and started functioning as an independent company.
Types of Watches
The main collections offered by Seiko include:
Spring Drive

 – the only watch whose hands move in the nature of time; has a long power reserve, fast winding, and high accuracy

Arctura

 – it has been the distinctive design aerodynamic the Kinetic technology bought by Seiko that was inspired by the arc of nature

Velatura

 – these high performance marine watches for men and women, especially the Kinetic Direct Drive and the yachting timer have created a sensation among the professional as well as amateur sailors

Premier

 – it is the leading dress watch collection from Seiko whose design is inspired from neo-classical architecture and architraves of a Greek temple, having a heavy case and a minutely sculpted dial

Sportura

 – claiming to be the leading collection of sports watches, the models are inspired from motor sports and are characterized by 10 Bar water resistant stainless steel case with a non-reflective sapphire crystal for utmost legibility
Other products from Seiko
Apart from wristwatches and clocks, Seiko has a number of other electronic gadgets like printers, semiconductors, mechatronics devices, machine tools, and style accessories like eyeglasses, jewelry, and optical glass materials