Established in 1881 in La Chaux-de-Fonds, Switzerland by Achilles Ditesheim, Movado is one of the leading Swiss luxury watch companies. The company was bought by celebrated watch baron Gedalio Grinberg of New York in.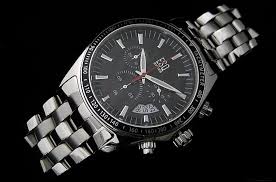 Why Movado is famous?
Movado is recognized for its wide collection of Museum watches which feature black clock faces along with a single gold dot at the twelve o'clock position. The original Museum Watch which was designed by the American designer Nathan George Horwitt in 1947 was the first wrist watch model to be exhibited at the Museum of Modern Art. Horwitt planned it to be redolent of a sun dial, with the dot representing the sun at high noon. This most familiar look of a Movado watch feature simple hour and minute hand including a solid background and a single pressed circle on the twelve o'clock mark.
In addition to its elegant design, Movado watches tend to be reputed for their light weight. Most Movado styles include the use of sapphire crystal which is highly scratch resistant and therefore used by most watch making companies. With its numerous watches displayed in museums around the world, Movado has made its mark of worldwide success. Its regular promotion and exposure in famous magazines and other publications fosters this success. At this time, Movado watches utilize quartz as well as automatic movements in their timepieces. The Movado Group, Inc. promotes other watch brands like Concord, Ebel, ESQ Swiss, Coach Watches, Hugo Boss Watches, Tommy Hilfiger, Juicy Couture, Lacoste Watches and RALCO. Famous Movado models
Some of the renowned Movado models include:
Movado Elliptica Men's watch: Be it the intensity of the dial color or the unique positioning of the hour markers, the design of Movado Elliptica Men's Watch is eye-catching. The unique dial with silver colored hands and 3 sub dials as well as Arabic hour markers allow this model to combine with contemporary sleek look of Movado watches with an intrepid presence. Some other features of this model include a polished steel crown on the top of the case, scratch resistant sapphire crystal, 30 meters of water resistance, 40 mm case width, pin buckle watch clasp and Swiss quartz chronograph movement.

Gold Movado Museum watch: The usual Movado watch is a Movado traditional Museum style watch which has a black dial and gold plated case and bracelet. This model also has a scratch resistant sapphire crystal case and a precise Swiss quartz movement.

The Moavdo Esperanza Ladies watch: The Movado Esperanza with its a stainless steel case, mother of pearl dial, diamond bezel and unique Bourdeaux fabric strap has long been a preferred fashion accessory to women. Some of the technical attributes of this model include silver hand markers, scratch resistant sapphire crystal, accurate Swiss quartz movement and 100 feet of water resistance.

The Movado Concerto watch: The Movado Concerto for women is undoubtedly a magnum opus of contemporary art and luxury fashion. The case and bracelet are solid gold plated which are evocative of Egyptian styled jewelry. The clasp, push button and double folding also add to its gorgeous look.

Movado watch in Stainless Steel and Plaid: This Movado Modo Men's Watch with stainless steel case and a stainless steel bracelet can be outstanding choice for them who want something extraordinary on their wrist