In India exotic jewelry holds utmost importance. It is not only a matter of style but also a matter of tradition and family. However, with the evolution of technology and revamping of the new-age outlook, the Indian fashion jewelry has also evolved in style. Jewelry forms an integral part of the life of a modern Indian woman. The various Indian fashion jewelry brands have created exclusive, chic and contemporary, elaborate and traditional pieces of jewelry. These art pieces can compete any international brand at any time.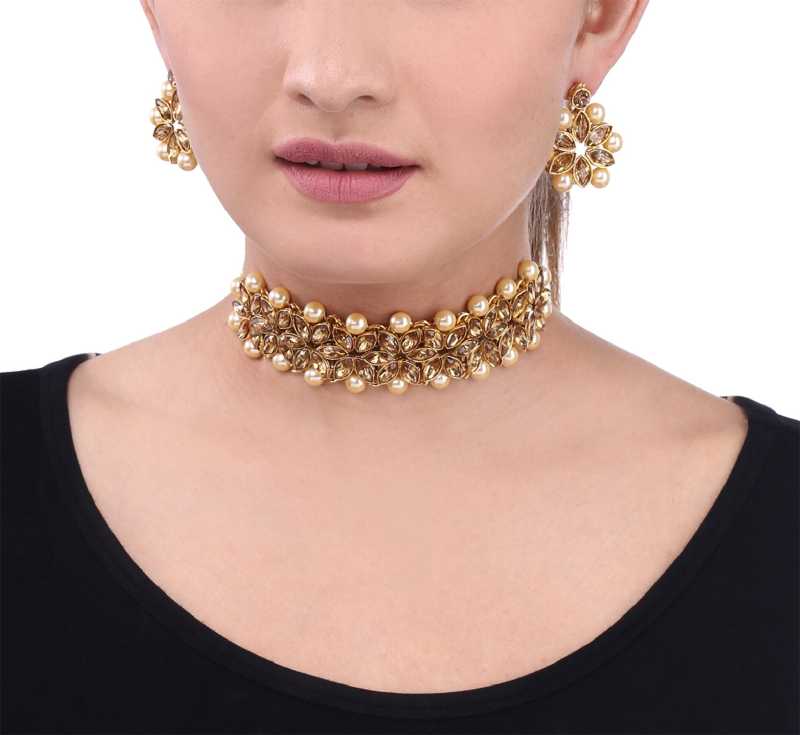 Indian Fashion Necklace
The elegant Indian fashion jewelry houses unleash bold and ethnic creations of bone necklaces. They are modern in their built and traditional in the composition. Check out the various beaded bone necklaces, multi-layered necklaces, stone bead creations, chandelier pendants, simple beads and fashion beaded necklaces. These art pieces are available in various designs and prices. Even the most expensive design is worth the price considering the toil that the maker had to undergo. You can also chose from the various kinds of necklaces like brass necklaces, glass beaded ones, shell necklaces, wooden and resin necklaces and also dangling necklaces.
Indian Fashion Anklets
As India is a land of spices and myriad colors, so are the jewelry. The various junk jewelry that the contemporary woman wears include colorful anklets. An anklet is essentially a traditional piece of jewelry which has been modified to suit the purpose of the modern Indian woman. The v​_arious beaded and kundan etched anklets are beautifully designed. It ranges from the most simplistic till elaborate and complicated designs. The prices range accordingly.
Indian Fashion Rings
The fashion rings are mainly available in beaded and gemstone-studded creations. The shapes and sized differ along with the color, price and style. You can choose from various shapes like the circles, drops and rectangles. The various pieces of rings can be custom made. You direct and your demand will be fulfilled.
Indian Fashion Pendants
Fashion pendants are available in traditional and contemporary designs. The various pieces can be adorned with sophisticated attires. The designs are a blend of intricate yet simple and can be used as a daily wear. You can choose from the ethnic pendants, fashion pendants, dangler pendants, designer pendants, seed pendants and much more. There are the mixed stone pendants which are a combination of color stones, metal rims, gemstone studded items and wooden pendants too.
Indian Fashion Bracelets
The elegance and elaboration of designs make these bracelets a beauty to crave for. The charm bracelets, beaded ones, trendy bracelets, costume bracelets, resin bracelets, seed and glass bead bracelets are real beauties for your delicate wrists. Accentuate your beauty with the elegance of colorful magic.
Indian Fashion Earrings
The Indian fashion earrings have gained popularity over the years. The colorful combinations, the elaborate designs and the soft and trendy flow makes them he most desired pieces of jewelry. Choose from the various bead earrings, chandelier earrings, danglers and much more.