Finally, after all of these years, I've found it–an exfoliating product that my skin can take. Oh, I know that I rattle on and on about my skin being sensitive. But honestly–if I dared use an exfoliating serum on my face I'd flake and turn red and my lips would swell like I'd had fillers. I'm not the prettiest daffodil in the garden as it is, so that's not something I'd like to risk. The problem with avoiding exfoliating products, though, is that my skin always looked yellowish and dull with a kind of hard outer shell. Maybe my description is a little dramatic, but I can't think of a better way to put it. It just seemed to me that everyone else had this soft outer coating whereas I was more like a tortoise hiding in a shell. That is, before I found Clinique Turnaround Overnight Radiance Moisturiser.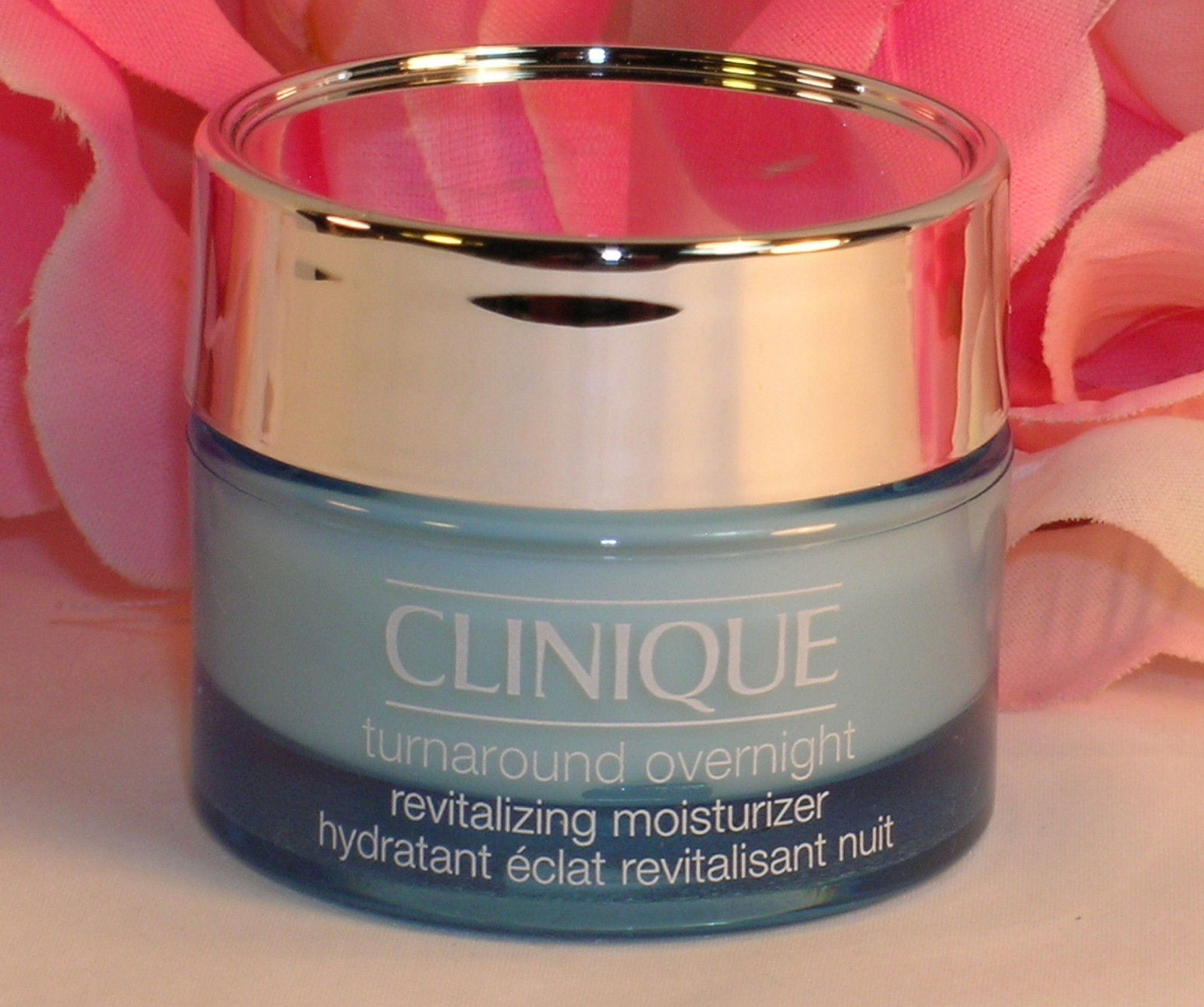 A little more about the run-up to this find: I'd tried various other products. Clinique Clarifying Lotion was good, but the effect wasn't quite as strong as I'd hoped for (I don't think it could have ever been the only exfoliating product I had in my arsenal) and, later, Aveda's Botanical Kinetics Exfoliant which is a great product (amazing smell, effective, gentle), and Clarins' Gentle Exfoliator Brightening Toner, which was nice too and highly moisturising (though it felt a little tacky on touch).  I've used Clinique's Turnaround products before, but not recently. It must have been around fifteen years ago I last tried them, and the range has had an overhaul (or, most likely, overhauls) since then. I went back to them because now that I am approaching thirty I want a total of something a little stronger to do away with some fine lines and more. After all exfoliating is one of those things you can't argue with–it works. Some products out there have claims that are dubious but exfoliating has an effect that you can really, honestly see.
This product is a white cream with a slight gel-like consistency.  On the skin it feels highly moisturising but not in a way that would cause spots. I think that's what I like about it the most–as a night cream, I can slather it on if my skin feels parched and I know that I'm not going to break out. That is important for an exfoliating product because exfoliating is a process which can leave the skin in need of moisture. It doesn't absorb fully (on me, at least) and so it leaves a protective layer on the skin, softening all the while. The great thing is that it is completely oil-free despite this. It is effective, and it feels expensive and luxurious (though perhaps it lacks full holistic appeal).Clinique Turnaround Overnight Moisturiser has a gentle but effective exfoliating effect. I saw the fine lines around my eyes reducing the longer I've been using this cream–to an extent which is far more profound than I could have hoped for. For those that want a deeper effect, though, there's Clinique Turnaround Concentrate Radiance Renewer, which is more akin to their older Turnaround product, but a souped-up serum version. If you're happy with your existing night cream or moisturiser or want a boosted exfoliating effect at night or during the day as well, you might be better off with the serum rather than this cream.
The night cream comes in one incarnation which Clinique say is suitable for very dry to combination oily skin–something which I can well believe. I think perhaps very oily skins might be better off with the serum instead of this. The cream comes in a 50 ml tub in a frosted blue plastic design with a silver lid. It looks okay on the bathroom shelf but as with all tubs it wouldn't be my first choice of packaging for something that might be tossed into a gym bag and could, potentially, become messy. It claims to stay good for two years after first opening. Clinique describe this product as follows: "Radiance-making moisture cream reveals brighter, younger-looking skin overnight. Gently clears away the dulling effects of time and sun damage, then supplies the nourishing moisture fresh young cells thrive on. Skin feels velvety smooth, looks radiant–in the morning and over time."
Is there anything I don't like? Well, yes. It has a very faint artificial smell to it, but I don't mind it too much because I'd rather that than unnecessary fragrances. Some people might not like it if they prefer something that is multi-sensory. People who prefer a moisturiser to absorb fully might also like to avoid this, because it really doesn't–for me, though, that's the beauty. The ingredients show a mixed bag of natural extracts and not-so-natural things. Natural extracts include those of barley, St. Paul's Wort, cucumber and rosemary. Along with the new there's also the old, reliable salicylic acid giving it power. There's the humectant properties of glycerine and moisturising hyaluronic acid. With this in mind, if they knock a fiver off of the price (I paid £34.00) I think it'd be well priced. Remember, if you're using an exfoliating product, try to use a sun block during the day when you can. It'll protect the newly-revealed, fresh skin from damage.
Ingredients: Water, Isostearyl Palmitate, Cetyl Ricinoleate, Dimethicone, Butylene Glycol, Squaline, Glyceryl Staerate, PEG-100, Cetyl Alcohol, Stearic Acid, Arginine, Sigesbeckia Orientalis (St. Paul's Wort) Extract, Hordeum Vulgare (Barley) Extract, Castiana Sativa (Chestnut) Seed Extract, Cucumis Sativus (Cucumber) Fruit Extract, Yeast Extract, Yeast Extract, Rosemary Officinalis, Trehalose, Salicylic Acid, Creatine, Ethyhexylglycerine Propylene Glycol Dicaprate, Lecithin, Acetyl Glucosamine, Hydroxyethy Urea, Petrolatum, Helianthus Annuus (Sunflower) Seedcake, Polysilicine-11, Tromethamine, Caprylyl Glycol, Sodium RNA, Tocepheryl Acetate, Glycerine-Phospholipids, Hexylene Glycol, Sodium Hyaluronate, Disodium NADH-Micrococcus Lysate, Laurdimonium Hydroxypropyl Hydrolyzed Soy Protein, Xanthum Gum, Adenosine Phosphate, Arginine Ferulate, Carbomer, Ascorbyl Tocopheryl Maleate, PTFE, Nordihydroguaiaretic Acid, Disodium EDTA, Sodium Metabisulfate, Chlorphenesin, Potassium Sorbate, Phenoxyethanol.