Makeup which is artistic, dramatic and most often extreme, is known as Avant Garde Makeup. 'Avant Garde' is a French term which translates to 'advance guard' in English. Anything that is experimental, creative, unique and innovative in nature is referred to as 'avant garde' in French. In terms of makeup, the highly fashionable and exotic types are known as Avant Garde Makeup.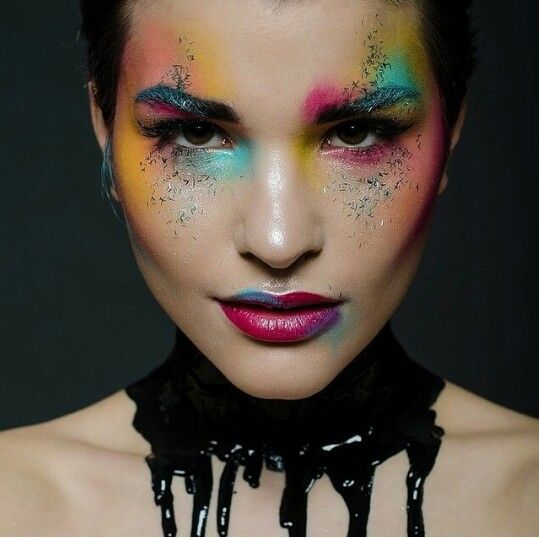 Where Will You See Avant Garde Makeup?
This type of makeup can be seen only on a runway. Models taking part in fashion shows, photo shoots and advertisements for magazines and events use the avant garde makeup to get noticed. Another place where this type of makeup is very common is in a makeup artist's portfolio. These artists deal with models participating in holiday competitions and other special events. The type of avant garde makeup changes with the time of day and the mood on any given occasion. The average woman walking in the street may not be comfortable with wearing avant garde makeup everyday. But she can try a bold new look to make an impact in a gathering for special occasions.
Types of Avant Garde Makeup
Fantasy Eye Makeup
Crazy Eye Makeup
Glamour Images
Characteristics of Avant Garde Makeup
The below listed characteristics help makeup artists to seek inspiration to pursue the avant garde makeup:
Only good quality beauty products (international brands) are to be used to get the best color.
The colors of all cosmetics used in avant garde makeup must be unusual. Drop the regular nudes, peaches, pinks and reds. Use shocking colors like bright blue, yellow or green.
Emphasis must be given on the eye in avant garde makeup.
Follow a particular theme while doing avant garde makeup. The same theme is to be applied while applying makeup on every part of the face.
Remember that in avant garde makeup application is not the most important part. Rather, planning the design which will be applied is of utmost importance. Spend more time deciding the theme and design of makeup.
Avant garde makeup is not only about colors but also about accessorizing with components such as feathers, glitters and gems.
Avant Garde Eye Makeup
Since eyes are the most highlighted part of the face in avant garde makeup, here's a look at the bold to whimsical eye makeup methods in the avant garde style.
For dramatic eyes – Apply dark black or brown eye shadow and use a smudging brush to get the smoky look. Make sure that some of the shadow is on the outer corners of the eye. Now apply a second coat of shimmering eye shadow above the black shadow. Apply the same shadow on the brow bone. Wear long false eyelashes and end with the application of two coats of mascara.
For playful and cool eyes – Use two shades of eye shadow which are very bright, shiny and complimentary. Apply the lighter shade on the inner corner of the eye and make sure that the two colors blend completely with one another. Curl the eyelashes. Apply a shimmering shadow on the brow bone. You can also add gems at the side of your eyes in a dramatic design.
For goth inspired eyes – Line the upper eyelid with black liner drawing a thick line. Use a red or orange eye shadow extending till over the brow bone. Outline the lower eyelid with kajal making sure that the line extends to the outer edges of the eyes.